CODIP pumps are installed in a wide variety of chemical, pharmaceutical and foodstuff plants all over the world for handling a the most corrosive liquids, when conventional pumps work with trouble, difficulty or not at all. Also CODIP pumps often replace other pumps in order to reduce downtime, maintenance and operating cost. CODIP pumps still find several other types of applications :
1) Since they can run "dry" ( without liquid ) without suffering any damage, CODIP pumps handle hot highly corrosive liquids (diluted acids, etc.) in automated plants in which an automatic control may fail.
2) CODIP pumps can run deadhead without any damage.
3) The RP 20 pumps can handle small flows at high discharge pressures (5-6 bar). This cannot be achieved by centrifugal pumps.
4) CODIP P.T.F.E. "non-sticking" property permits use of CODIP pumps for handling paints, varnishes, glues.
5) CODIP spark-proof and conductive body properties permit use of CODIP pumps for handling explosives (nitric-sulphuric acids mixtures, etc.) and all kinds of solvents.
6) CODIP air consumption is as low as possibily achievable thanks to the zero dead air volume.
7) CODIP pumps handle mixtures of acid and solvents, of acids and ketones (e.g. HF and MEK)
8) CODIP pumps handle mercury and heavy fluids (with inverted check valves).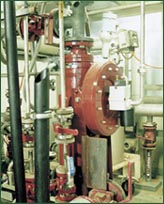 9) CODIP pumps handle perfumes and flavours, since no drops of liquid or fumes can leak out from the pump.
10) CODIP pumps are installed in pharmaceutical plants for handling fermentation broths, antibiotics and vitamines since they can be easily sterilized with steam at 180°C and since all parts in contact with product are manufactured in P.T.F.E..
11) CODIP pumps handle any kind of natural or synthetic latex (also polyvinyldene chloride -PVDC) and do not produce coagulation of product.
12) CODIP pumps meet the rigid guidelines of the semiconductor, electronic, pharmaceutical industries for pumping corrosive high purity liquids without contaminating them.
13) CODIP pumps have all peripheral components like the leak detection system, batch controller, emergency stop etc. available for explosion hazarduous areas which in principle does not allow the use of any kind of electricity.